About Our Site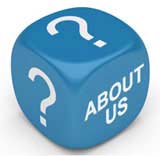 StuckForGifts was formed to offer a unique reference point on finding the ideal gift.
Do you struggle to find the perfect gifts for your loved ones? Perhaps you've just met somebody special and you want to find something they'd like, or perhaps you have a business meeting coming up where you're expected to exchange presents, but you've no idea what to get. Don't panic! We're here to help.
Unlike most gift sites out there, which are just trying to sell you their own wares, Stuck For Gifts provides neutral advice that can help you find exactly what you need. We can help with gifts for people of all ages, for birthdays, weddings, Christmas and more. And if you can't find the advice you're after right away, you can Ask Our Experts for personally tailored help.
All of this is free of charge - because we want to provide you with the help you need to spread a little happiness in the lives of those around you. As well as gift ideas, we can help you to plan surprise parties, romantic evenings and even proposals of marriage. This is the place to look if you'd like to give an activity gift, a special adventure - or if you're after something really unusual that will never be forgotten.
Whatever you're looking for, Stuck For Gifts makes it easy. Here you can find everything you want in one place. So go on, take a look around, and see what you can do to make somebody's day!

Related Articles in the 'Site Information' Category...