30th Birthday Gifts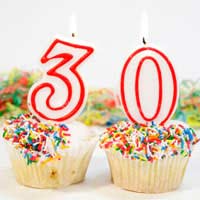 After 21st celebrations, 30th birthdays are the next big milestone party for most people, with bashes being thrown to rival those 21st 'key of door' shindigs! So with that in mind, choosing an appropriate present can be quite a minefield of options - do you go quirky, original, whimsical or sentimental? Or does the 'fun present' rule the day?
The answer is, of course, whatever you feel would be best received by the birthday boy or girl! If they are bucking the trend and not throwing a huge party and are generally playing the whole event down, you might want to avoid presenting them with a present that is going to remind them of the big three-oh for all eternity! Conversely, if they are stocking up on the '30 today' banners, balloons and beer mats, you can probably rest assured they want to mark the day!
As with any well thought out gift (i.e. anything that isn't a book token or a matching set of perfume and body lotion!) you need to take into account the persons likes, dislikes, hobbies, interests and general personality.
If they are having a party, and you are part of a 'group' of people invited, for example, all the person's work colleagues or fellow members of an organisation or club, it could be a good idea to pool your funds to buy one substantial gift rather than ten or so individual presents - especially as the more people the party-giver invites, the more likely they are to get duplicate presents, or a pile of 'fun' gifts they've got to find house room for!
Great 30th Birthday Gifts for GalsA beauty hamper with thirty products in - buy a nice wicker basket and fill with cosmetic and skin care goodies - just go easy on the anti-aging products! She's 30, not 70!
A day spa voucher - preferably presented before her birthday so she can be pampered for her big day.
An eco-friendly or 'gift with a conscience' - how about adopting an animal, naming a star or sponsoring a child in the Third World?
Thirty miniature bottles of her favourite drink - mini bottles of champagne or minis of her favourite spirit - attach a balloon to each bottle neck for a fun look!
A collection of thirty poignant and memorable photographs that really sum up your friendship, either presented in a photograph album or in a series of multi-image frames.
Great 30th Birthday Gifts for Guys
A race or track day gift certificate for him and a friend -
these types of gifts are always more enjoyable if the recipient has someone to go with!
A season ticket for their favourite football team.
A book of 30 IOUs - could be anything from promising a game of pool and a beer, to helping with DIY or car maintenance, or if you have particular skills, e.g. if you are a hairdresser, decorator or chef, sharing your skills! A thoughtful, budget gift idea!
Gifts for Everyone
Why not club together to give your friend or relation a weekend away, a mini cruise or luxury one night stay in a top hotel? Or book them and a guest a table at a celebrity-chef owned restaurant, or celebrity hang-out?
Make their 30th birthday one to remember with just the right gift and they'll be completely bowled over - and don't forget, what goes around, comes around!
You might also like...