Anniversary Gifts for Him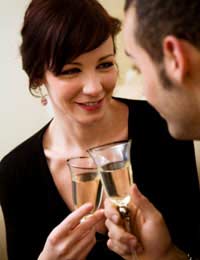 Given that men are notorious for forgetting anniversaries, it almost makes sense to push the boat out when it comes to the gift you chose for him – the bigger and better it is, the more likely it is he'll be shamed into topping it if he has forgotten yours!
Keep in mind that your anniversary gift should reflect your togetherness and bond, rather than be a present geared towards his sole hobbies or interests – so a new set of angling kit is out unless of course, you're keen to send him off on fishing weekends for the foreseeable future!
If you are celebrating a significant anniversary, such as silver, you will probably have a specific gift in mind - silver cuff links for example, or a silver photo frame with a picture from your wedding day – but what about those years that don't have such strong 'themes' attached to them, like leather, paper or lace? What do you do then?
Modern Alternatives
Some of the traditional anniversary gifts, like cotton, leather or wood, now have a modern variation – in this case, china, crystal and silverware. This makes sourcing gifts that much easier!
Break Away!
What ever the anniversary, a long weekend or city break will be a welcome gift – and one that can be customised to fit in with your desired theme. For example, the traditional first wedding anniversary gift is paper, but it's modern variation is clocks. Why not consider a city break to one of the famous clock making regions in Switzerland or Germany? The Black Forest region of Germany, for example, has specific cuckoo clock routes for tourists.
Personalised Gifts
An engraved or personalised gift commemorating your special day is something that can be treasured for ever – but do chose carefully. If you are going for something ornamental or that will be on permanent display, make sure you select something that isn't going to date.
Blast from the Past
For a totally one off and original gift, why not browse antique shops and flea markets for a present with a past? Look for silverware, antique clocks and watches, or even small pieces of art which in some way symbolise your relationship.
Experience Weekends
Why not make your anniversary one to remember by booking an 'experience' break? Consider a pampering spa break for you both, or a trip away indulging in a shared passion - perhaps a painting break, or wine tasting weekend.
Gifts on a Budget
If finances are tight, yet you still want to celebrate in style, why not make your own gift, or organise your own pamper weekend, or special dinner at home? How about putting together a DVD using photos and camcorder clips from the time you met up until the present day? Set it to music that really captures the moment – either songs that have meaning to you, or the hits that sum up the period in time.
Other budget gift ideas could include a scrapbook or 'memory' book of your years together, or a compilation of pertinent songs.
Whatever your gift, give it with love and it will automatically be special!
You might also like...