Silver Wedding Anniversary Gifts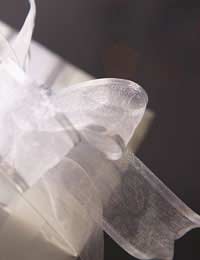 Twenty-five years of marriage is a definite achievement that the happy couple and the surrounding family and friends should definitely celebrate. Here are some gift ideas that will mark the occasion.
The Rules
Twenty-five years of marriage means only one thing – silver. Whatever you give the happy couple or even if you are part of the happy couple yourself, you should ensure that the gift contains some reference to this precious metal. Silver is a great theme for gift buying. There are lots of options out there from photo frames to jewellery.
Tradition With a Twist
Everyone gives flowers for an anniversary. They are a gift choice that is dependable and always available. A bonus is that you also know that it will bring a smile to the receiver's face.
However, make sure you put in that extra bit of effort. Make this staple gift a little bit different and bring in the silver theme! How do you do this? A Silver Birch Tree, or roses – but not just ordinary roses. Do your research and head to a floral specialist to purchase a bouquet of roses. Not just any roses though. These are special and will have been uniquely preserved in sterling silver. The cost may be higher than your average bouquet but the effect is truly extraordinary and will leave him or her breathless!
Jewellery is another gift staple that doesn't fail to miss. It can be given to either the husband or the wife and there is always something to suit everyone's tastes. Think about the type of jewellery they wear at the moment and head to a store to pick out a complementary piece. A necklace or a watch, made of silver, are all fantastic ideas.
You can always go that one step further though to bring these gifts right up to date. With jewellery the best way to do that is to engrave. Think of a message that you think sums up the last twenty-five years. It might be a phrase that the two of you always say and which is personal to you. Alternatively, it might be a line from a poem or a line from your wedding vows that is particularly meaningful to the both of you. Adding this small touch makes a big difference and turns a nice gift into a truly special gift.
Memory Lane
A photo frame is a nice gift idea. Purchase a sterling silver one and place a picture of the happy couple within it. Make sure that the picture is flattering to both parties and that it capture's a happy day and memory that they can cherish forever.
If you want to make those memories come alive then you can always take the happy couple back to those happy moments. If they have always reminisced about the place where they got engaged or the hotel where they spent their honeymoon surprise them with a trip to remember.
Make a reservation, arrange the travel and surprise them with a real treat – a mini break or a trip down memory lane. This might be a bit pricier than some other gift ideas but it is one that will definitely be appreciated for years to come.
A One-Off Creation
If you want to give a truly unique present, it must be bespoke. One winning idea is to head to a top parfumier and make up your very own fragrance. The staff at the store will guide you through the various scents, or notes, and will help you create a perfume that you think represents the marriage. It might be heavy in vanilla because that's her favourite smell or rich in roses because she adores these particular flowers.
Handing over a bespoke item as a gift is very special and shows thought and planning. She or he will know that you went that extra step to provide them with a present that nobody else in the world will have.
Silver wedding anniversaries are a big event. What can you do? Well, you can, Plan a party, purchase a pricey present or give something of serious sentimental value. Whatever you do – strive to make it a day to remember for all the right reasons!
You might also like...