Which Board Game to Buy as a Gift?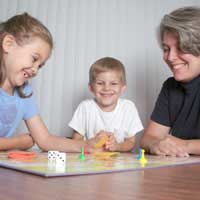 It may seem like the world of home entertainment has been taken over by games consoles and high definition TVs but that doesn't mean that good old fashioned board games have had their day just yet. We all know the old classics like Monopoly, Scrabble and Cluedo, but there are a lot of other great titles out there that you may not have heard of.
Scene It? DVD Board Game
This movie trivia board game comes with a DVD full of real movie clips on which an array of questions are based. Answer as many question as possible correctly in order to race around the board and earn yourself the title of King or Queen of movie trivia. The game isn't just intended for hardcore movie buffs, however. Many of the challenges are based on observation, memory and puzzle solving skills too, meaning it's suitable for anyone, not just those with an encyclopaedic knowledge of every film since the dawn of time. The addition of the DVD to this board game really gives it that something extra that older games don't have. And once you've seen all the clips and learnt the answers to all the questions, there are a variety of special edition discs available giving this game unlimited longevity.
The Simpson's Board Game
The Simpson's Board Game is a hysterically funny, fast-paced game, which mixes classic game play, such as charades and trivia, with our favourite characters from the hit TV series, creating fantastic fun for the whole family. With seven games in one, it is a lot more hectic than your average board game which is perfect for the people of today's dwindling attention spans. It is suitable for 2-6 players of any age and is even fun for those who claim not to be Simpson's fans.
Deal or No Deal
Now anyone can join in the fun of the hit TV game show with this fantastic board game. It's a shame that Noel Edmonds won't fit inside the box, but it offers plenty of suspense filled fun nonetheless. For anyone familiar with the show, the board game should be a doddle. Simply place the 22 money tokens face down on the board and take it in turns to choose which one you think is the lowest. A talking electronic telephone takes the place of the banker and although there's no actual £250,000 up for grabs, it still makes a great game and an ideal gift for anyone who likes the TV show.
Monopoly Special Editions
If you know someone who still loves the classics, and would like to see this old favourite given a little bit of a twist, there are plenty of the aforementioned twists to choose from. There have been many different incarnations of Monopoly over the past few years, so it shouldn't be difficult to find a special edition to suit that special friend or relative.
FA Premier League Edition
For fans of the beautiful game we call football, this edition features all the teams from the 1999-2000 season as well as 8 unique player tokens including the prestigious Premiership trophy. Chance and Community Chest cards have been replaced with Home and Away, houses and hotels have been replaced with terraces and stadiums and it even includes special football dice. A perfect gift for any footie fan.
Coronation Street
This beloved soap has been running for decades with more than 5,000 episodes having aired in the last 46 years. The Coronation Street special edition of Monopoly features familiar properties such as Fred's butchers, the Rovers Return and Roy's Rolls and uses miniature pubs instead of hotels. It may not be everyone's cup of tea but is a definite must for anyone whose a big fan of the show.
Make-Your-Own-Opoly
This unofficial version of the popular property game allows the owner to create their very own special edition, making it as ludicrous and as personalised as they please. It contains everything needed to create unique money, game and property trading cards including a CD-ROM to create professional printouts. You could make it using whatever theme you feel like; a personalised family version such as 'Smith-Opoly', a version for your school or hometown such as 'Oxford-Opoly', or even something a little more obscure and outlandish such as 'Types-Of-Pasta-Opoly' or 'Endangered-Moth-Species-Opoly' – the possibilities are endless. This game offers twice the enjoyment of the original as half the fun is in making the game your own before ever even playing it. If you have a good idea for a friend, you could even make it yourself before presenting it to them, making this the ultimate personal board game and gift.
You might also like...
Probably the way not to go wrong is by choosing a classic, one that everyone knows. Monopoly is the obvious choice, but there's also Cluedo, Risk, Articulate, Trivial Pursuit and many more. They keep everyone interested. Cranium is a fairly new addition to the list, as is Carcassone. There are many possibilities to keep a family busy and happy for hours. Also look at who you're buying for - if there are young children, tailor it for them.
Martha
- 25-Jun-12 @ 1:59 PM