Present Ideas for Teenage Girls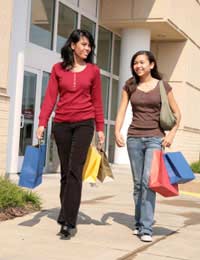 Teenage girls can sometimes be tricky customers. Get the gifts right first time with our mini shortlist to the best present ideas.
School's Out
Rule number one – avoid giving anything school related unless the teenage girl you are dealing with is a super keen straight A student. As a general rule gifts, for this age group, should be as fun as possible. That means "no thanks" to National Curriculum study guides or exam mock papers! If you do go down this route you will be sure to recieve a roll of the eyes or at best, a very suppressed thanks.
Hard Cash
Sometimes the only present worth giving to a teenage girl is cold, hard cash. The beauty of this gift is that you don't have to spend hours scanning the shops for the ideal presents and they get to buy exactly what they want. This is definitely the perfect gift idea if you don't know the birthday girl that well.
Vouchers are an alternative cash gift that will be as gratefully received. Do a little bit of research beforehand. For example, does she have a favourite shop that she always raves about? If you know of one, head there straight away and pick up a voucher that she can spend whenever and on whatever she wants.
How much you give of either is up to you. As a general rule, a 13th or 16th birthday are watershed moments that mark the maturity from girl into young lady. As such they warrant a little extra by way of gift value. If she is your daughter, sister or niece then the sky is the limit in terms of expense but try not to spoil her too much!
What Money Can't Buy
If you don't have a set budget, go the extra mile and get a gift that will guarantee a beaming smile! Items that money can't buy are those hard to find presents.
Here we are talking about things like securing concert tickets to her favourite band. The box office may have sold out months ago but there are always agencies that have a few premium-priced seats left - as long as you can afford them. If she tried to get tickets previously but was disappointed by the sell-out she will absolutely love this gift and it will really make her day, or even her year!
Handbags and Gladrags
Teenage girls are savvy and smart and very fashion-conscious. A handbag from a cool designer or a new pair of branded jeans will go down a treat. Do your research – ask her directly where her favourite shops are or resort to paging through some magazines and find out which brands are in the spotlight.
If fashion plays a huge part in her life, and she loves seeking out the unusual items, vintage is the name of the game. Treat her to a day out and take a tour of some of the most famous vintage clothing emporiums in the city. There are always two or three that are renowned for their historical stock which charts all the big fashion trends and designer names. Seek them out, take her along and enjoy a day of indulgent dress up!
Make up Madness
Make up and beauty products are a great gift idea. Teenage girls are often intensely interested in beautifying themselves and a few products given to them as presents will definitely be welcomed!
It's unlikely that your teenage girl can afford the premium make up brands. Head to your nearest department store and pick up some products on her behalf. Steer clear of foundations or powders – getting the colour right is a little tricky. Instead, lipstick, gloss, nail varnish, blusher and eye shadow palettes are your best bets.
If she is self-conscious about her adolescent skin and has confided in you about how she feels, a prescription facial, especially for sensitive skins, might be a great gift. Follow it up with some products that she can take home with her after the treatment is over. This type of gift is a powerful confidence booster that will also help refine her troubled skin.
Do your research on what she likes and keep the gifts fun and thoughtful. Beauty items, clothes, handbags or cash are all presents that will get her smiling.
You might also like...