Toys for Her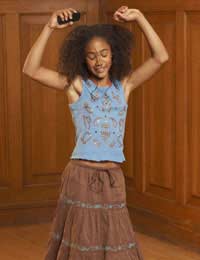 With such a huge range of products aimed at kids on the market it shouldn't be hard to find something that inspires the kind of enthusiasm that can only be found in a child who has just been given an exciting new toy. However, buying for girls is always tricky especially with all the high tech gadgets on offer. Yet do not fear help is here.
Gadgets
There are plenty of gadgets out there that fill the toy-gift brief. Handheld game consoles, digital cameras, mp3 players, portable DVD players and multi-use mobile phones are waiting, ready to be chosen and now all come in a girls favourite colour, pink!
If you are going to plump for this option, don't just hand over the gift – make sure that you go that extra step and make that gift really memorable.
How do you do this? Well, you can upload some of her favourite tracks onto the mp3 player or you can set up the games console in advance so that she doesn't have to waste time booting it up and getting it working. If you are giving a DVD or hand-held media player, load her favourite girly film onto it. These kind of touches make a good gift, great!
Hobby
If she has a hobby that she has either taken up or wants to take up, use that as a base for your gift idea. Dancing, painting or football are all hobbies that can form the foundation of your present.
If she is passionate about dancing, book a ballet or musical show for you both and treat her to a fun day or evening.
A kit of new paints, canvasses and brushes will also be a big hit if she is into painting!
If she loves football, why not take her to her favourite teams match? Or have a football autographed by her favourite player, this is easier then you may think. Online auction sites often have autograph memorabilia on sale at reasonable prices, and if you live close by to her favourite football teams training ground go there one morning when they are training and the players may autograph something for you when they are leaving!
Collector's Items
Is she passionate about her own collection? Is it dolls, ornaments or teddy bears? Collector's items are often treated with a lot more care and respect than normal toys. These are high-value items that need to be preserved and looked after, and every girl knows how to take care of her prized possessions
If she has a collection of her own, help her expand it. Manufacturers produce dozens of different lines each year and trying to keep up can become an expensive business.
See what you can do to help her collection. Ask some leading questions to get her to reveal what she would love to get her hands on. Then do your best to seek out that particular doll or toy on her behalf. Good starting points are online auction sites and specialist toyshops, which often have a mail order website you will be able to peruse.
Dressing Up
It's every little girls dream to be a princess. If your a whiz with the sewing machine, why not make her a unique princess outfit, with her name on. Or perhaps she has a favourite film like the wizard of Oz? Why not make her, her very own Dorothy outfit. And if your not a dress maker, supermarkets and high street stores have now added fancy dress costumes to their lines of children's clothing and reasonable prices!
Girls will always love anything you give them and have so much imagination that you can make anything into a magical gift. And if you are ever in doubt, think pink! A girl's best friend is anything pink, that is before she discovers diamonds!
You might also like...