Buying Toys for a Boy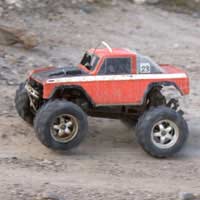 With such a huge range of products aimed at kids on the market it shouldn't be hard to find something that inspires the kind of enthusiasm that can only be found in a child who has just been given an exciting new toy. However, there is of course always a chance that you will buy something that is no longer 'down with the kids', so here are a few suggestions for things that will never get old.
Remote Controlled Toys
There are very few actual vehicles that children are allowed to drive. Fortunately, there are miniature remote controlled versions of pretty much all of them these days, from motorbikes and cars to hovercrafts and snow ploughs. Choosing the right one is simply down to what he likes. If he has an interest in flying, why not buy a helicopter? There are many available, ranging from as little as £5 all the way up to several hundred. Most of them are fairly easy to control and safe. If he has an interest in boating, there are many remote controlled water vehicles available too.
If you aren't quite sure of his interests, you can play it safe and simply opt for a good old fashioned remote controlled car. There are plenty to choose from and whatever you choose, he is unlikely to be disappointed.
Sports Toys
If the child in question is a sports enthusiast, but doesn't quite have what it takes, or simply needs something to occupy him on those rainy days indoors, then why not consider a games table such as miniature football or pool? They don't take up as much space as you might think and should address any out of control competitive streak that may be emerging. If he is not particularly interested in football or pool, then there's air hockey AKA knock hockey, table tennis and there are even tables available that boast a whopping 20 games in one. These table games appeal to kids of all ages and even adults too.
Musical Toys
If his parents can bear the noise, why not consider buying him something that will feed his creative side? A musical instrument such as a guitar or keyboard makes a great gift that will keep on giving. Many beginners' instruments are not too expensive and come with instructional books or even DVDs that will help them hone their skills and maybe even set them on a path to becoming the next Hendrix or Beethoven. If that seems unlikely, there are many simpler instruments such as the accordion, harmonica or the often overlooked kazoo.
Living Toys
Not exactly toys as such but damn fun nonetheless. If he is still too young or irresponsible to take care of a proper pet, then there are a range of alternatives available that are twice as interesting and much easier to take care of. Sea monkeys, as they are affectionately known, are, in reality, just brine shrimp in a colourful container. However, the satisfaction is in preparing the tank and food and watching the sea monkeys hatch from tiny eggs and grow into tiny living creatures – something that will fascinate young children especially.
Alternatively, the ant farm has been given a twist for the 21st century in the form of a small tank filled with a luminous blue gel. Simply add your own ants, and the gel acts as food and water for them as they tunnel and eat away in an attempt to form a vibrant ant metropolis that will amuse him for weeks.
You might also like...