New Born Baby Gifts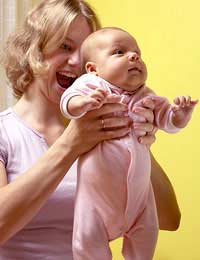 A new baby has arrived and its time to start celebrating! Pick up the perfect gift for the perfect newborn.
There is no better excuse to splash out and treat the family. A new baby is a blessing and a reason to celebrate with lavish gift giving. All you have to remember when you hit the shops is that anything goes! Jewellery gorgeous little clothes sets or gifts of a more practical nature are out there and ready to be purchased!
Picture This
When a newborn comes into the world it is really the beginning of a whole new life experience for parents and baby alike. Help mum and dad capture those memories with a photo album or beautiful picture frame.
Frames in sterling silver or other precious metals are a good treat. Alternatively a beautifully designed photo album, designed to capture all of baby's first moments is a great gift and one that will definitely be used to keep those first moments alive forever.
A digital camera takes the picture gift theme a little further. If mum and dad don't have one in their possession, club together with relatives and give them a good quality model. The beauty of a digital camera is that there is no need for film – a snapshot of baby and family can always be taken and stored away.
You could of course always go an extra special step and pick up a digital video recorder so that those first steps and first smiles are captured in real time. It is of course a little pricier and may require some serious clubbing together but mum and dad will be overwhelmed by your generosity.
First Time for Everything
Every moment with a new baby is a new and exciting adventure. Their first steps, first meals and first outfits can all be the basis of some great gift ideas.
Clothes and booties are some of the most popular newborn baby gifts on the market. The choice is endless and there are some truly adorable items that can be picked up. Choose from premium designer labels or pick up a bunch of coloured baby-gros that mum and dad can make practical use out of.
Don't forget that the top jewellery brands produce some truly special commemorative gifts. Sterling silver plates, spoons, glasses and bracelets are just some of the unique gifts that they offer. These may not have much practical, everyday value but they are memorable items that can be kept forever.
If you know that money is a bit tight for the new parents, buy items that you know will help them out. Baby's are expensive business so if you can buy the first car seat or the first nappy changing table, you will be making a real contribution to their lives.
Cash Prize
Of course, your gift doesn't have to be a tangible, material item. It can be something of equal value that will act as a foundation for the future. This is the money-based gift. You don't have to hand over just vouchers or cash either. There are more inventive ways of giving money.
Buy a moneybox for the newborn and fill it with coins or notes. When mum and dad get round to opening a bank account in the little ones' name they can simply transfer the funds.
Alternatively buy a government bond in the newborns name. Premium Bonds are the perfect gift and they could make the baby a millionaire one day! Buy as many as you can afford to give – it's a great investment.
Whether you opt for clothes, money or a silver plate you can guarantee that your present will be met with smiles.
You might also like...