Baby Essentials as Presents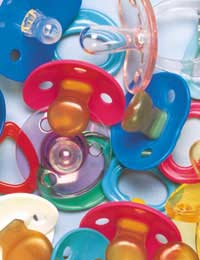 When a baby joins the family mum and dad are frequently inundated with gifts. If you are buying, don't overlook the essentials. There are plenty of practical presents that should be given some attention. Here is the lowdown on what baby really needs to receive!
Safety First
Before baby even leaves the hospital there are some essential items that mum and dad would have had to shell out for. To transport baby home they are going to need a safe and secure car seat. This can be quite an expensive item and if you are close to mum and dad, it becomes a great gift idea. One word of warning: make sure you tell them in advance that you are planning to get this for them so that they don't beat you to it.
When you hit the nursery shops make sure that you have selected the right one. Whatever you do, don't buy second hand – those few savings in pounds may equate to a compromise in the newborn's safety. Instead get a new seat from a renowned retailer and get one that is designed to accommodate a growing baby – for car seats this is normally based on weight.Another idea that might appeal to you is to buy a set of nursery monitors or walkie-talkies. This is a great gift that might have been overlooked by mum and dad. They are not an especially cheap item but hugely useful in times when mum and dad want to leave the newborn in their room but still want to have peace of mind.
A stair gate is another essential present which is a welcome contribution to a family's home surroundings. They are usually adaptable so don't fret about measurements when you are picking one up – just make sure that it can be adapted if need be.
Keeping it Clean
Cleanliness is next to godliness. That proverb is certainly true when it comes to keeping baby's environment spotless. They are extremely vulnerable to germs so items like sterilizers, however uninspiring they may seem, are absolutely vital. Get a bottle sterilizer that can accommodate as many bottles as possible – this will make cleaning less of a chore for the busy parents.
Makeover Magic
If baby is lucky enough to have a dedicated room of their own, there are some key essentials that will be required. Here we are talking about furniture. A cot, a baby changing table and a little wardrobe or storage unit will be in high demand. Be the one to assist mum and dad in the cost of securing these items.
A nice addition to the room is a comfy chair that mum can sit on when she is feeding baby. It might not be an absolute essential but when parents are trying to get the little one to sleep or when they need a convenient place to feed, it will be a true godsend.
Small items that are quintessential in a baby's room include mobiles, bedding and of course all those peripherals like nappies, lotions and baby-gros. Don't be afraid to give items like this. They may be small gestures but they are equally as important as the larger ones.
Fun for all
They may not be as essential as clothing or bedding but baby's need stimulating and toys do the job wonderfully. Anything colourful with an element of movement is perfect. Make sure you think about safety. Toys should be age appropriate and the packaging should give an indication of whether they are suitable for babies or not. Use your common sense when picking out your must-have toys.
Babies are big business. There is a huge range of items they need so you will never be stuck for ideas. If you are at a total loss as to what to buy, just ask mum or dad for some pointers. With so many demands on their finances they will be happy to give you some direction!
You might also like...