Arranging a Surprise Party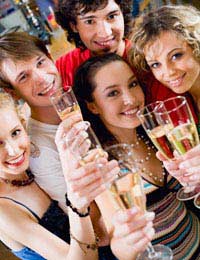 So, you want to organise the biggest bash of the year, but you don't want the guest of honour to find out...an impossible task, right? Wrong - with a bit of forward planning, you should be able to pull it off!
Getting Started
The main problem with surprise parties is that anyone who is used to their big day being marked in some way will have their suspicions aroused if nothing is said or mentioned about the forthcoming date. The key is plenty of red herrings, false leads and smoke screens to divert attention from what is really going on.
Time-scales
It is also important to make sure you leave yourself plenty of time to plan the party - and to make sure the guest of honour doesn't get in first with their own event, or suddenly decide to take themselves off on holiday! Get a contacts list going of friends and family and between you decide a date. If you choose a weekend before or after the person's actual birthday, it should be simple enough to ask them to keep it free by passing it off as the chosen evening for another function.
Team Building
If you are planning a real show-stopping, no expenses spared event, then you'll need a good team around you to ensure it all goes off as planned. Project manage it to the hilt and leave no stone unturned! Delegating responsibility for all the different tasks involved will leave you the time and space to make sure everything is taken care of and spot any likely pitfalls or problems! Choose a small group of trusted and reliable people - and make sure they will not bow under pressure and spill the beans to the birthday boy or girl!
Keeping the Secret
Having the party at home will obviously be the cheapest option, but perhaps the hardest to keep a secret unless you can arrange for your special guest to be out of the way whilst all the setting up and decorating is done. Again, this is best executed with an army of helpers - and ideally a 'babysitter' to remove the person in question from the premises and keep them entertained elsewhere until the party is due to start!
As party organiser, you will need to be a step ahead of the game at all times, and be ready to second guess everything the party's star guest may or may not do in the run up to the big day! This could be anything from them announcing they're jetting off on a long weekend sunshine break or putting in extra weekend overtime at work! As mentioned above, encouraging them from the start to keep the specific date free is the best course of action and if a good enough excuse is thought of, it shouldn't spoil the surprise!
Bear in Mind...
Another important thing to consider is your guest of honour's tastes, likes and dislikes and general party preferences. Before you even consider hosting a surprise event for them you should think long and hard about how they will react to it - if you have any doubts that they will be anything other than overwhelmed with delight, excitement and gratitude, then don't do it! Some people could find the whole experience of being the focus of everyone's attention absolutely excruciating and will not appreciate your efforts one bit, so to avoid any danger of them refusing point blank to stay and enjoy the party once the shout of "Surprise!" has totally knocked them for six, do make sure that you are doing the right thing!
You might also like...