Romantic Night Out or In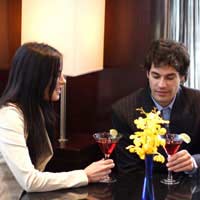 Are you planning a big romantic night for someone very special? Do you want to do something a bit more memorable than the predictable old dinner date, followed by a show or a movie? Are you uncertain as to whether you should pull out all the stops and have an expensive but show stopping night out, or save the pennies and speak the language of love in the comfort of your own home?! Then read on for some great ideas!
Romantic Nights In
You don't necessarily have to go out to have a romantic night! If funds are tight, or you just want to make the most of your own home, then turn your pad into a love nest for a night of romance!
Setting the Scene
Turning your home into your own personal boudoir for a sensual and sexy night in needn't cost the earth or take forever to do! Simply dim the lights and bathe the room in a soft, peachy candle lit glow by dotting around lots of little scented candles or tea lights. Drape soft, snuggly throws over your chairs and sofas and use plenty of squishy, plump floor cushions for luxurious lounging!
Sensual Foods
Plan your menu well in advance, and choose sublime, decadent nibbles. Browse glossy magazines for inspiration for glamorous table settings, and check out finger food menus on catering websites for tasty ideas. Browse your local deli counter for ready prepared goodies that you can transfer straight to your table. Slice up exotic fruits and serve with indulgent thick double cream, or make up a platter of sliced strawberries and passion fruit.
Dress your table with thick creamy linens, and light gently with tapered dinner candles in elegant candlesticks. If you're feeling particularly lovey-dovey you could really go for out and out romance by scattering petals across the tablecloth!
Themes
If you're looking for more of a fun romantic night in rather than stylised, vintage glamour, how about setting a theme for your big night? Take inspiration from sexy movies like Barbarella, Last Tango in Paris and 9 and a 1/2 Weeks.
Romantic Nights Out
What are the traditional ingredients for a romantic night out? A romantic flick followed by a meal at a top restaurant? Doing some thing schmaltzy like ice skating or visiting a gallery? Organising flowers or placing chocolates on your loved ones pillow? Wandering hand in hand down a moonlit beach?
A night out can really be as romantic as you want it to be - and it should be something you deign romantic rather than the stuff of romance novels or films! If wining and dining in a dimly lit restaurant is not you or your date's thing, then it just isn't going to work!
Which places evoke happy memories for the both of you? Where did you go on your first date, for example, or the place you proposed?
Romantic nights out do not need to be confined to special dates like wedding anniversaries or birthdays - make the time and effort to put a bit of romance back into your life by planning a very special night out at least once month - it's guaranteed to put some zing back into your relationship!
You might also like...