Presents for Mum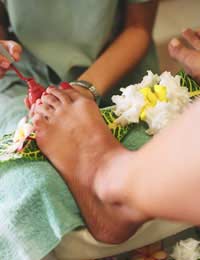 That famous slogan – "your worth it" – was probably written by a copywriter for their own mum! They work hard and often live a multi-tasking life; caring for the family for the pets, for the home and for their jobs. Now its time that they cared for themselves! Help them on their way and demonstrate your love by giving them a token of your appreciation.
Break Away
Eschew all conventional gifts. Those bouquets of flowers and "smellies" that frequently find their way into mum's hands should be cast aside. They are nice presents but nothing new. Get your imagination fired up and breakaway from tradition. We want to see surprise and wonder on her face and the following suggestions may well prompt such reactions.
A Night to Remember
A night at the theatre plus dinner at a top restaurant equals a winning combination. This gift might send your budget into three figures but your generosity won't go unnoticed.
You need to get planning early for this one. Not only do the best shows sell out months before but tables at premium restaurants like The Ivy or Gordon Ramsay's, are often reserved up to half a year in advance. Avoid disappointment and plan ahead for the perfect night out.
If you want to take a shortcut, there are plenty of agencies out there that sell theatre packages. Go for this option if time is at a premium but beware that they are often a pricey option and not as flexible as booking independently.
Choose a show that she has dropped hints about or one starring her favourite celebrity. Then start researching nearby restaurants. What is her favourite cuisine? Where has she always wanted to eat? Would she enjoy a celebrity-packed glamour fest or a foodie paradise? Consider these options and then book as early as you can. When the big day arrives simply whisk her and other family members away for a night to remember.
Pretty Woman
If your mum pines for a bit of glamour, treat her to a pampering session. You have two main options: take her to a personal shopper for a spree or pay for a day at a spa with her favourite treatments thrown in.
For personal shopping take mum to the best department store in your area. The service is free but the goodies she chooses may not be – so be prepared to spend! This gift is a huge treat that anyone would enjoy with private dressing rooms, glasses of champagne on tap and a stylist fetching clothes and accessories.
A beauty treatment or two will always be welcome. Buy a gift certificate or book a day in a spa and amp up the pamper factor. Uplifting facials, innovative massages and a good old-fashioned manicure and pedicure give mum quality time. If time is an issue the spa can always come to her – these days there are plenty of mobile beauty companies that come to your house, brining all the necessary equipment and tools of the trade. It doesn't cost any more and mum will get a wonderful surprise!
If neither of these would appeal, pay for her to receive a fantastic haircut or colour from a famous hairdresser. You may have to book the appointment months in advance for time with the likes of Daniel Galvin and Nicky Clarke and it won't come cheap but an experience like this can be incredible powerful in terms of boosting self-esteem and confidence. Go on – you know she's worth it.
Whisk Her Away
If you really want a dramatic gesture, grab yours and mum's passport and whisk her away on a day trip. These days it is not unusual to venture a couple of hundred miles in only 24 hours. Paris, Bruges or Brussels are only a few hours away by high-speed train but are still adventurous enough to be considered an exciting day out.
Book the train tickets, tell your mum's boss that she needs a day off and keep it a secret until she is taken to the train terminal. Get a simple itinerary together to make the most of the time you have; book a lunch, reserve places on a sightseeing tour and research those shopping opportunities.
Out and About
We all have dreams and ambitions to try things – even if it's just once.
Rally driving, a day of cooking lessons at Le Manoir Quat Saisons or enrolling on that art course. Even mum has such dreams. Think – has she ever mentioned such desires to you before? Ask your other family members if they know of any dreams that she has never got round to fulfilling and if you get any answers, try and make it happen. If you do, mum will be overwhelmed by your thoughtfulness.
Choosing what to get mum is easy really. It's simply all about treating and spoiling her with treats that she has otherwise been unable to get round to.
So now that mum's sorted, its time to think about dad – and that's a different story!
You might also like...