Gifts For Her On A Budget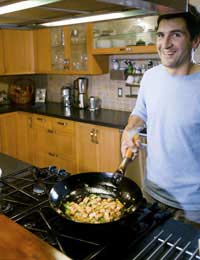 You're feeling generous but your bank balance isn't. If this describes your predicament make sure you read on. Here are some great ideas on how you can give a gift on a tight budget.
Make it up to her
A DIY or homemade gift might be you're first thought when you are thinking about finding an affordable present. The beauty of this gift choice is that it can be personalized to suit her likes and dislikes exactly. The only risk is that your effort can end up looking more cheap than cheerful and she might be disappointed by the lack of effort. It's important then that you think this through very well and execute it with some precision.
Arguably one of the best DIY presents that you can give is a hand-made gourmet meal so set aside one night and dedicate it to her, featuring everything that she is passionate about. Choose her favourite foods, pick out her favourite wines and cocktails and serve it up with some serious panache.
Flex Those Creative Muscles
Are you a skilled photographer, filmmaker or a master with a paintbrush? If the answer to any of these questions is yes, your search for the perfect budget present is over. Take advantage of these skills and flex your creativity.
A beautifully shot photograph of the lady herself or of something close and meaningful to her will be a powerfully emotive gift. Take the concept one step further and plan a photo shoot day where she will receive all the best shots taken. If she has children, a professional looking family portrait will be a fantastic gift.
If she is your girlfriend and you want to give her something different as a present, what about a video, illustrating why you love her? This makes a great alternative to the traditional Valentines gift of chocolates or flowers. Get some video clips together of past nights out, holidays spent together and funny moments with family and edit it together, adding a soundtrack or two.
Hit the Shops
If you're creative skills are lacking, don't fear, there are shop brought alternatives that you can rely on to bring a smile to her face and they needn't cost the earth. If she is a make up and beauty product junkie, check out the department store floors. Each company will regularly run a promotional offer whereby you buy two products and get a bumper pack of goodies completely free. This is a definite winner and a great way to bulk out your gift!
If you are dreaming of holidays and would love to whisk her away to warmer climes, but the budget doesn't allow, indulge your imagination. Get a travel guide from a local bookshop and pair it with a couple of small holiday themed gifts – a bottle of sparkling wine, a pair of flip flops by Havaianas or a small mp3 player loaded with summer-sounding tunes will be a great gift to lift her spirits through a long winter!
Feel Good Fun
When you are on a budget there is no doubt that you have to think outside the box. Consider her likes – what does she like to do in her spare time? If she is a yoga fanatic, how about paying in advance for a short course of classes? If she dreams of running a marathon for charity, buy her a gift pack, pull of running paraphernalia – heart rate monitor, a runners guide, energy bars and a voucher towards a new pair of running shoes.
If you are still at a loss as to what to give, head to a charity website and choose an ethical gift. You could buy a goat or cow for a community, or adopt a child, desperately needing financial support. These are small investments that make a massive difference. It's a thoughtful gift that will leave you both feeling good.
There are budget gifts out there. It's not easy but with a little bit of imagination you could really bring a smile to her face!
You might also like...