Traditional Gifts for Weddings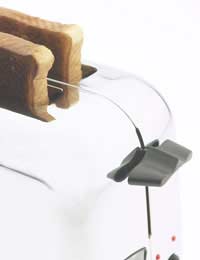 Making a selection from the wedding list can be tricky. Get the lowdown on the safe and traditional gifts that you can give to the happy couple.
Make a House a Home
Help create a dream home for the dream couple! Household appliances always feature highly on the wedding list – they are a necessity for a newly weds trying to equip their new life with all of those domestic necessities.
The chances are that their wedding list will feature an array of household appliances to choose from. Toasters kettles and plate sets will no doubt be available for you to select. By all means, choose something from the list but don't just let the store send it to them – add a personal touch that will make it stand out from the crowd!
If you are buying a set of saucepans or cutlery, why not throw in a voucher to a cooking class to help the domestic bliss come along naturally! If you are planning on buying a coffee maker, purchase some rich tasting coffee beans that they can enjoy once they have mastered how to use the contraption! It's all about adding a small token and going that extra mile to leave your mark.
Flower Power
There is nothing that makes a bigger impact than a beautiful bouquet of flowers. When planning the arrangement think about the time of year and what flowers are in full bloom. Also think about whether the Bride or Groom have their own favourite flowers that should perhaps feature in the bunch. If you have no hints to go on, consult a florist and get them to apply the professional touch!
Don't forget to include a personal message! Think long and hard about what you want to write in the card. Make it meaningful. Write a poem especially for the couple. If you don't feel that creative, include a pre-written one that reminds you of them and their love for each other. This is an extra detail that will be much appreciated!
Basket Case
If you want to order off list, an ideal present is a gift basket. This can be a very creative present. With a gift basket you have licence to pick and choose the items and create a truly bespoke treat. Here are some ideas of how to theme it:
Food and drink – head to an exclusive deli and buy lots of food and drink items to satisfy the newlywed's appetite. Quality wines, premium virgin olive oils, smoked salmon, garlic stuffed olives and delicious cookies are perfect presents for the gourmet couple. Line the basket with a rich red velvet material, place the items on top and place clear plastic around the entire basket, securing in place with ribbons.
Beauty basket – after months of wedding preparations, the happy couple will need a treat or two. Give them a beauty basket and help restore their energy levels and sense of wellbeing. Exotic salt scrubs, soothing body cleansers, rich body lotions and energizing facial scrubs are top treat ideas. Add a couple of fluffy bathrobes to the mix and you have an assortment of pampering gifts.
Money Talks
In many cultures, cash is the number one wedding gift. In some ways this is the best gift to give the couple. They can use it as they wish – whether it's to clear the credit card debts or to splash out during the honeymoon holiday.
How much to give? This is the question. If you are family or a very close friend, be as generous as you can but keep in mind that you don't want to either overwhelm or underwhelm. Aim for a happy medium - £50-£100 is the right amount and it is probably the average of any item on their wedding list.
You want to get it right. It's all too easy to just buy an anonymous gift from the wedding list. Add a personal touch to make your contribution to the happy couple all the more memorable.
You might also like...