Gifts for a Team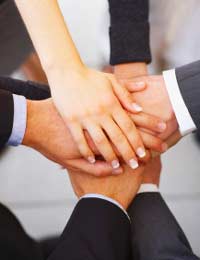 Teams come in all shapes and sizes. Whether you're looking to buy a gift for a sports team, a project team, or even a virtual team, there are loads of thoughtful ideas that they can share and enjoy together. If you're thinking of buying a gift for your employees, the chances are what they'd really like is some time off. Here are some other ideas if you want to be a little more creative though.
A Morale Booster
If you're the manager of the team in questions, it might be a good idea to avoid the cliché of the annoyingly over enthusiastic boss if you really want to boost morale. You may need assistance if you're determined to improve their work ethic and overall mood, and this could very well take the form of a trusty mascot.
Like teams, mascots come in all shapes and sizes; from something inanimate like a statue, figurine or cuddly toy, to someone in an amusing suit, or for those who are really feeling committed to the mascot idea, a live team pet, such as a hamster, dog, or even a llama could be your new good luck charm. Animals in amusing suits are not recommended.
Failing a cheery mascot as a morale booster, sweets, cake and alcohol are usually all well received among workers and athletes as well.
A Restful Break
If you're not in a position to give your team any time off, then why not consider something to allow them a restful weekend? This could mean arranging some time away at a health spa or a weekend retreat. This will give them a great chance to recharge their batteries and return to the tasks at hand feeling refreshed and revitalised.
Paintballing, orienteering and other team building exercises are popular activities for teams, and are worth considering too. Just remember, that a lot of team members may consider such activities a chore, rather than a gift, and so it may simply have the opposite effect you are looking for.
If you do decide to go along this route, then there are loads of less clichéd ideas such as zorbing, bungee jumping or track days where team members will get a chance to race cars around a race track for a day.
These ideas may prove a rather expensive option, so if they seem a little out of your price range, you could simply contribute with holiday vouchers or arrange a group booking which may allow you a discount.
A Great Night Out
Following along the same theme of team building, and team camaraderie, organising a big night out may really provide your team members with a gift they will enjoy. Arranging for them to see a show such as a musical or a stand up comedy set might be just what's needed. As well as giving them a chance to unwind together, it will give them an opportunity to bond outside of the setting they are usually used to.
As with holidays and weekends away, there are often discounts available for group bookings, making this a more feasible option for those on a tighter budget. If you're planning the gift as a surprise, then choose something you think most people will like, but if you decide to let your team know well in advance, you could take a vote for the show you decide to see, increasing excitement even more.
You might also like...