Gifts for Siblings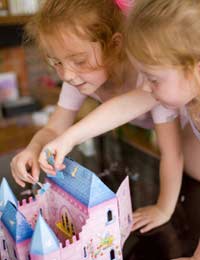 Siblings, sharing? This might sound like a tall order when you think about some brothers and sisters you know. Whether the siblings in question are still the young and prone to bickering kind, or whether they're all grow up and settled down, sharing a gift can be a rewarding experience for them.
Whether you're trying to stretch your Christmas shopping budget, or just teaching children the value of sharing, there are plenty of gifts out there to be shared among siblings.
Little Critters
For siblings that are still living together, adding a little life to the home might be just the ticket. This gives you a range of options, from the tiniest sea monkeys, to cats or dogs, all the way up to their own horse if your budget allows. A fish tank is another good idea, which allows you the opportunity to buy each sibling a fish of their own. This is a great gift that'll give them a lot of pleasure, and does not require too much attention to take care of.
Sharing in the experience of looking after an animal can be hugely rewarding for brothers and sisters, and give young ones the chance to learn about responsibility too.
Remember that whenever buying animals as gifts, to make sure the recipients are ready for the responsibility. In the case of young ones, this means the parents too.
Sweet Tooth
If it's just a small gift you're looking to buy, then sweets are a good option and are easily shared. A tin of chocolates or a jar of jelly beans are likely to bring smiles to their faces, and aren't too pricey either. If you want to liven this gift idea up a little, why not buy them a jelly bean dispenser or a hamper with a selection of their favourites?
If you really want to emphasise the whole experience of sharing with your gift idea, you could even buy them something that lets them make their own sweets. Basic candy floss makers are available at surprisingly reasonable prices, and there are kits for making your own chocolates available too. There are even kits that allow you to make your own edible jewellery.
The Great Outdoors
If you know some siblings with access to a lot of outdoor space, you might consider something to make it more fun. Kids love toys they can use outside, and there are plenty they can easily share. A swing set or slide can provide hours of fun. If you're worried about making the garden look a bit tacky, you can even find ones made of wood that make a great extra feature outside the house.
Paddling pools and inflatable swimming pools are another great option, providing loads of outdoor fun and if they haven't already, it will even provide them with the chance to learn to swim. These are both gifts that can be enjoyed together and will hopefully minimise the chances of them fighting over who gets to use their gift when.
Indoor Fun
For those rainy days indoors, why not consider a games console for siblings to share? This is the perfect sharing gift as it allows both people to play at the same time, and can be a great bonding experience. Some consoles put particular emphasis on playing other people in the room, rather than other players over the Internet, so a console like this is probably the better choice for siblings to share.
There's a lot of fun to be had with the huge variety of different games and gaming accessories that are available at the moment. There's bowling, baseball, tennis and car racing games, there's beat 'em ups, shoot 'em ups and even keep fit games and accessories, which can encourage staying healthy indoors with fun aims and goals to work towards. Just remember to buy enough controllers so everyone to have a go!
You might also like...