Gifts for Parents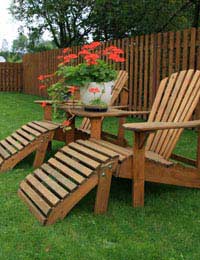 It can be hard enough thinking of individual gifts for your Mum and Dad, so looking for a single gift that they can both enjoy can seem like quite a daunting prospect. However, with a little thought about what they have in common and the things they already share, it needn't be.
Something For The House
A gift to enhance your parents' living space in some way might make the ideal gift and is an idea that gives you a lot of different options to choose from. Try and think of gifts in terms of the room they might belong in. For example, you could buy something new for the kitchen such as a set of crockery, a coffee percolator or a new set of wine glasses. Alternatively, you could buy them something for the living room such as a set of decorative candles, a painting or a fancy new ornament.
Remember to think of something that both your parents will appreciate or use equally. If your parents' house has a name, then a new name plate to brighten up the front might be a nice idea too.
Something For The Garden
If your parents both enjoy spending time in the garden, then this is another area to think about and one that should provide plenty of food for thought. There are absolutely loads of different gift ideas for the garden. For example, you could invest in a new set of garden furniture, some new plants or if you're feeling adventurous you could even surprise them with a new fish pond. What you buy depends largely on the size and shape of your parents' garden as well as your own budget.
For those of you looking to limit your spending, consider purchasing an outdoor ornament or a little gnome to give the garden a bit of character. Those of you with a higher budget might consider having a gazebo or some decking built, creating a pleasant, tranquil area for your parents to spend those sunny afternoons or quiet evenings together.
Something To Look After
A huge part of parents' lives is taking care of their children. Unfortunately, there comes a point when their children become independent and must flee the nest. When this happens, a lot of parents find they miss the joy of having their loved ones so close. If this sounds familiar, think about introducing a new loved one into their lives. If you're absolutely certain that they are prepared for the responsibility of a new pet, then you've given yourself a lot of different ideas to work with.
Their new animal friend could be anything from a little goldfish to a cat or dog or if you're really feeling whacky and your parents have the appropriate time and space, you could try and get your hands on something really unusual like a goat or a llama. The important thing with this gift is to be sure that this is something your parents will really want, and not something you will just be lumbering them with. Try dropping hints by talking about pets and never buy anything that will be more of a burden on them than a pleasure.
You might also like...