Water Experiences as Gifts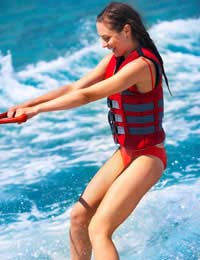 Stuck for an idea for treating a friend or relative who is a bit of a water baby? Not quite got the cash to send them off on a month long cruise or a weekend on a private yacht?! Don't worry - there's lots of cash-conscious ways to take to the water without breaking the bank.
Pleasure Cruises
If you live near a river then you're sure to have a pleasure cruise company operating trips up and down stream and between the nearest towns. Often we don't appreciate - or even know - what simple pleasures await us in our own localities, and a river cruise can be an excellent way of seeing the sites that are usually hidden from view when you use the roads and footpaths. Discover hidden inlets, back waters and even river islands - all whilst gently bobbing along to your destination. A river cruise makes for a great start to a birthday treat - why not take lunch or tea in the nearest town or village before making your relaxing passage back?
Birthday Booze Cruise
If you are close enough to the docks to consider a day trip (or even a non-lander) to France, then you could make great use of the excellent value last-minute walk on tickets and non-lander fares available. For a special day out for your friend or relative, travel early and take breakfast on board (you will find many classes of restaurant on the ferries, from the sandwich and bar type meals to the club class lounges with silver service eateries) Time your trip to have lunch on foreign soil, before taking in a spot of sightseeing ahead of your return crossing home - and your duty free shopping! Popular ferry destinations are Boulogne, Dieppe, St Malo and Calais.
Extreme Gifts!
A teenager or extreme sports fan might appreciate a water sports gift - windsurfing, water skiing, jet-skiing, white water rafting and canoeing to name but a few. Many sports centres around the country offer courses and one off activity days for groups and individuals. Always check age and height restrictions, health issues and insurance before spending out on a gift voucher or booking lessons - you will often find these types of gifts are non refundable and non transferable!
Hook, Line & Sinker!
What better present for the angling enthusiast in your life than a whole day of off shore fishing? There are lots of companies offering chartered trips around the British coastline, many providing package deals which include equipment hire and lunch. And if you are a non-fishing partner, do not fear! Most skippers will include a sightseeing trip or bird or seal watching excursion as part of a day package.
Spa Days
For a real girlie, pampering day, you can't beat the luxury of a spa trip - but they come at a price! If you are keeping tabs on the cash, but still want to treat someone to a relaxing health club style indulgence, make some enquires at your local pool complex about day passes. Most clubs will provide a one day ticket that will give unlimited use of the swimming pool, jacuzzi and saunas. Large hotels often offer similar deals. Why not throw in a treatment like a massage or manicure as well for the ultimate pamper package?
You might also like...