Presents for Dad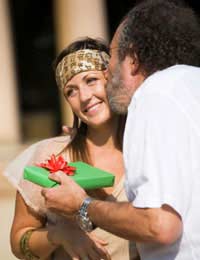 It can be pretty tempting to take the easy route and buy your Dad a nice bottle of brandy or after-shave when it comes round to Christmas or birthdays.
However if you want to avoid implying that your Father has a drink or body odour problem, there are a range of other options. A bundle of new socks or a ridiculous novelty tie may seem like a safe bet, but are even duller than that embroidered barbecue apron you considered a few years ago.
Something for the Office
If your Dad spends a lot of time at the office, possibly trying to earn enough money to pay off the debts he acquired whilst raising you, then why not buy him something to make the whole experience a little more pleasant?
Digital Photo Frame - These little visual wonders have dropped in price dramatically over the past 6 months, and are available for as little as £40. By inserting a memory card from a digital camera, all your Dad's favourite memories can be relived right there in his office on a beautifully crisp TFT LCD display. They come in a range of different styles and sizes and if you're willing to fork out a little extra, many play video and mp3 files too. They look incredibly slick and will brighten up any desk, shelf or filing cabinet.
Something for the Shed
Chances are that a pair of gardening gloves or a shiny new hammer isn't going to inspire your Dad toward getting all those odd jobs done around the home and garden. However, there are tools that will.
Pneumatic Nail Gun
– This may sound a little extreme, but is a vital and affordable tool for any mans shed. With the capacity to fire staples as well as nails, it is ideal for wooden frames, fencing, flooring cabinet and furniture work and is far quicker and more enjoyable to use than your average hammer.
Something for the Weekend
Even the most hard-working of Dads need to relax at the weekend, so why not buy him something that will help him do just that? After all, he probably deserves it.
Wine Tasting Evening – If your Dad is partial to the odd tipple, why not book him an evening tasting some of the world's finest and most exotic wines? There are a range of different experiences available, some offering basic wine tasting while others include helpful insights into the world of vino and how it can be best appreciated. For a little extra you could even buy a year's lease on a row of vines at your favourite vineyard with two bottles of wine with a personalised label thrown in.
Alcohol Breath Tester - With this helpful little gadget, you can ensure that your Dad gets home safely from wherever it is that he chooses to wet his beak at the weekend. Drink driving simply isn't worth the risk but it isn't always easy to judge whether you are over the limit or not. Now it is. Testers are available for under £20 and come in a range of different models including a discreet pen design.
You might also like...