Gifts For Him On A Budget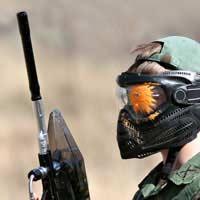 They say it's the thought that counts and that never rings true more than when buying gifts on a budget. So don't be disheartened if you can't quite stretch your finances as far as buying him that new games console or mp3 player; there are plenty of great gifts available that will show him you care without putting too much strain on the purse strings.
£15-£20
Paintballing for Eight –
If he's the type that enjoys rolling around in the woods with his friends pretending its world war 3 then consider this fantastic low cost gift. A voucher lasting ten months will only set you back £20, and will give him and 7 of his friends the chance to don protective overalls and skulk around the countryside with a gun like Andy McNabb for a whole day. The voucher will come with booking details as well as a list of available locations throughout the UK.
Credit Card Camera – With an on-board memory of 64 MB, a resolution of 0.3 Megapixels and a width of just 0.5 cm, it really is outstanding that you can buy a camera like this for less than £20. It has a built in lithium battery that recharges from your computer as well as functions such as auto exposure, white balance, and will also operate as a web cam. It may not exactly be at the forefront of technology in terms of picture quality, but at such a small size and low price, who cares?
£10-£15
Multi-Tool–
This may not be the most inspiring gift in the world but it is an extremely useful one. Complete with useful devices like screwdrivers, pliers, scissors, and wire cutters, these things are a must for any self-respecting man who has ever found himself out and about with something to fix. They come in a range of different designs with different functions in mind, and most will attach easily to his belt or a bunch of keys.
USB Rechargeable Batteries – As environmentally friendly as they may be, most rechargeable batteries are a pain to use and require a bulky eye-sore of a charger. Well, not these little bad-boys! They plug directly into the USB ports on your computer and even deliver 10-25% greater capacity than most Nickel Cadmium batteries. Absolutely superb, innovative and very affordable.
£5-£10
Bug Zapper –
It's not something they like to admit, but a lot of guys love to kill things! So if they're going to put an end to the lives of helpless little creatures, they might as well have the right equipment for doing so. Resembling a harmless cheap tennis racket, this little gadget will turn into a deadly insect-crippling device at the simple flick of a switch. They are extremely useful whether at a barbecue or in slightly unsanitary living conditions, and are a lot of fun too.
Under £5
Desk Top Girlfriend –
What better way to liven up a desktop than having a tiny sexy figurine that also doubles as a picture holder? Simply clip in a passport sized photo of his favourite female and voila! – His own desktop girlfriend. They have a flat base, meaning they can perch comfortably on his desk, computer screen or any other available flat surface and should keep him company during those long, lonely days at work.
Keyring Kite – With a wing span of 45cm and over 25 metres of bridle string, it's pretty impressive that these funky little kites can fold down small enough to fit inside a key-ring sized pouch. They are easy to fly in most weather conditions, are perfect for idle moments in the park, the garden or at the beach and make the perfect gift for him on a budget.
You might also like...