Christmas Gifts for Girls 11 to 13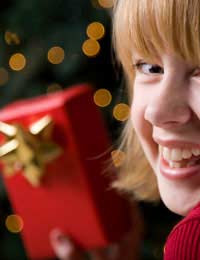 The flood of products targeted towards girls aged 11 to 13 might make it seem like it should be easy to find a great Christmas gift, but in reality there are often so many choices for tween girls that it's hard to even know where to start. Make sure that when you head out shopping you have a good idea of the girl in mind, including what she likes and dislikes and what her parents think is appropriate for her age. Clothing, beauty products, hair supplies, jewellery, craft supplies, books and music are all Christmas gifts that most girls aged 11 to 13 would be delighted to receive - but remember children of parents that age do not always allow make up or ears pierced.
Clothing
Tween girls may not yet be fully fledged teenagers but many have already taken a decided interest in the way they look, including having a personal style and favourite clothing brand or shop. This means that clothing can be an ideal Christmas gift for this age group. If you aren't quite sure of a girl's size or style, or if you have questions about the kinds of clothing her parents prefer her to wear, then consider getting a gift voucher for her to use at a later date. Otherwise consider the vast array of accessories, from funky fashion socks to trendy winter hats, which are sometimes easier to select than other items of clothing.
Beauty Products
Not all girls aged 11 to 13 are allowed to wear make-up or use beauty products, but many are. Again, check with parents to see if there are any items they prefer you not give their daughters. Clear or light lipgloss, subtle shades of nail varnish and gift baskets of soaps and other bath items all make great Christmas gifts for tween girls. Putting together a personalised gift basket with body spray, face masks and other beauty products selected with a girl's skin type or complexion in mind may also be appreciated.
Hair Supplies
Even if a tween girl is not totally interested in her hair there are some supplies that she will use on a daily basis. Scented shampoos and conditioners, nice hair brushes and basic hair products like gel or spray will come in handy for just about anyone. Cute hair clips and bands can also be an easy Christmas gift for girls aged 11 to 13. If a girl wears her hair in a particular style often then other hair supplies, from scrunchies to hair clips, might also be appropriate as well.
Jewellery
Earrings, bracelets, rings and necklaces are all items of jewellery that tween girls tend to enjoy. From big and bold to dainty and subtle, inexpensive to heirloom, there is a piece of jewellery out there to suit any girl's taste. If you do select a more expensive item of jewellery for a tween girl, make sure that you communicate the value of the item so that she knows to take care with it. Also remind her to take jewellery items off for sports and other activities, and during school if there are policies against such accessories.
Craft Supplies
Creative tweens will likely enjoy some new craft supplies as Christmas gifts. Sketchpads, coloured pencils, paints and jewellery making kits tend to be popular with tweens, or show her that you take her creative endeavours seriously by giving her a real easel or portfolio case. If she has all the supplies she needs right now, consider giving a tween a gift certificate for future supplies or reference books about a specific art or craft.
Books
Books for girls aged 11 to 13 tend to be divided into "middle grade" or "young adult" fiction. Middle grade tends to be for readers aged 8 to 12 while young adult tends to be for readers aged 12 and older. The differences between these types of novels can be seen in length, complexity, vocabulary, the age of the characters and the scenarios, subjects and themes. If you aren't sure which one a girl reads, ask her or her parents. Then look for books in a favourite series or new releases from a favourite author. Also consider books that have a film tie-in or non fiction books about a subject in which a girl is interested.
Music
Most tweens love music, so consider a CD of a favourite artist as a Christmas gifts for girls aged 11 to 13. Alternatively, give an iTunes gift card to girls who prefer to download their own music. If you're feeling really generous, throw in a CD player, mp3 player or iPod along with the new tunes.
There are so many Christmas gift options for girls aged 11 to 13 that it can actually making finding the perfect gift even harder. Clothing, beauty products, hair supplies, jewellery, craft supplies, books and music are all great gift ideas for tween girls.
You might also like...