Giving Christmas Hampers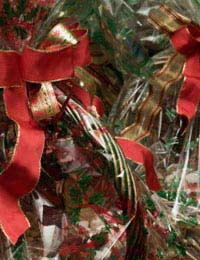 If you're running short on ideas for a gift this Christmas or if you want to buy a gift that can be shared between a family or a group of friends then a Christmas hamper may just be the ideal solution.
There are various different bundles to choose from to suit the recipient, and you can practically guarantee that each one will include some essential Christmas items that they have forgotten to buy themselves. So don't make the mistake of thinking that a hamper is a boring gift, because there are plenty of exciting combinations of items to choose from to suit anyone.
Traditional Food Hampers
A traditional food hamper should cost about £50 and will include a variety of different food and drink, with something to suit every member of the family. There are various everyday foods such as crisps, dips, biscuits and jams as well as a few more luxurious items such as chocolate truffles and Christmas pudding. A traditional food hamper will also usually include a few bottles of wine with which to wash down all those delicious cakes and snacks.
Christmas Gift Hampers
A Christmas gift hamper is a little more specialised than your traditional food bundle and can be given a theme of your choice. For instance, why not consider a crisp and dip hamper? It may not sound particularly special, but there's certainly nothing ordinary about a pesto and parmesan Italian breadstick, slathered in a rich chili salsa, exquisitely complimented with a glass of Vallformosa Cava Extra Seco wine. Other seasonal gift hampers include champagne and truffles selection and a chocolate fondue set which comes with marshmallows and sparkling white wine.
Christmas Wine Hampers
If you know someone who prefers their drink to their food, why not consider a Christmas wine hamper? After all, there's no better time to indulge in alcohol than at Christmas time. Christmas wine hampers come containing a variety of different wines depending on taste and budget and there are even themed wine hampers available such as summer and winter wines or chardonnay classics. If wine is not to your recipient's taste, then why not try a champagne gift hamper, available with salmon and chocolates or truffles. Let's face it; whichever one you choose, no one's going to be disappointed receiving a basket full of booze.
Luxury Christmas Hampers
For those of you with a little extra cash to spend this Christmas, consider a luxury hamper, presented in a beautiful willow basket and lavishly filled with some of the finest items money can buy. Luxury Christmas hampers range in price from about £100 to in excess of £800! Items include such extravagant items as luxury Victorian recipe Christmas pudding with brandy butter, bramble and pear preserves and epicure venison pate with red wine as well as oak smoked salmon, handmade Caribbean rum truffles and hickory smoked almonds.
These superb hampers are guaranteed to impress even the most auspicious of family members or friends. And the best thing about a luxury Christmas hamper? You can pinch a few items and no one is ever going to notice.
You might also like...