Gifts for your Neighbours and Colleagues at Christmas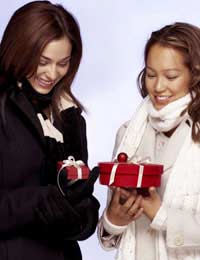 At certain times of the year it is only polite to give presents to those neighbours and colleagues. Find out how to get the gift giving spot on.
Keep a Sense of Perspective
Lets face it. Work colleagues and neighbours are not the most precious people in your life. You may interact with them on a daily basis but it is unlikely that they share your affections in the same way that your spouse or children do!
It is therefore important to keep a sense of perspective. Don't overwhelm these friends with expensive gestures. They won't be expecting it and receiving an extravagant gift may lead to feelings of discomfort and awkwardness.
Christmas Time!
Christmas is the time of year when you will be most likely required to give a small token of your appreciation to those neighbours and colleagues.
But what should you give? Well that will depend on a lot of factors. Do you have quite a close friendship close enough that you feel confident that you can judge their sense of humour? If the answer is yes, then make the gift as funny and as personal as you like. That means you are free to give joke presents, designed to make them laugh at themselves.
If you are not confident about how well you know them and if you are afraid that you might cause offense, play it a little safer. For music lovers get a CD from their favourite band or a download voucher so that they can choose what they want to listen to. If they are ardent foodies, pick up a selection of cookery books or a small gift package with some prime ingredients. Here we mean extra-virgin olive oils, stuffed olives, or delicious cupcakes.
It may be that your acquaintance is something of a mystery to you. You smile and say hello to them each and every day, yet you have no idea of their likes or dislikes and so are not in a position to personalize that gift. What do you do in these situations? The best advice is to keep the present as neutral as possible. It's Christmas after all so opt for the generic Christmas gifts that appear at this time of year.
There is nothing wrong with giving a neighbour or a colleague a package of handmade cookies, or a box of rich chocolates. These gifts may be erring on the generic side but they are non-offensive and they always go down a treat!
Birthdays, Anniversaries and New Arrivals
There are plenty of other opportunities throughout the year to give presents to those neighbours and colleagues. Birthdays, special wedding anniversaries, the graduation of their son's and daughters from college or even the arrival of a new family member are all cause for some serious celebration.
If it's a birthday you are thinking of, get a card and a small token. A bunch of modest flowers, a small box containing 3 or 4 gourmet chocolates should do the trick. A manicure voucher for a quick file and paint for the lady or the latest sport biography for the male acquaintance are also good touches.
Other ideas that might fly include vouchers to top high street clothing retailers, charity based donations in the name of the neighbour or colleague (a particularly good choice if they are keen donators and campaigners of global issues), a charge card to their favourite coffee shop so that the morning latte is on you, a guide book to their next holiday destination or even a plant, such as an olive tree, to help brighten up the office or home.
As you can see the choices are endless. If you have a set budget in mind wander the aisles of any store and pick out some safe gifts that will keep your reputation as a good colleague and neighbour in check!
You might also like...