Christmas Gifts for Teachers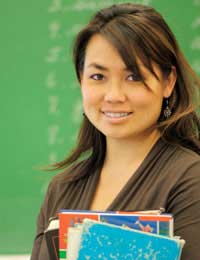 Teachers invest their hearts and souls into their jobs, but often end up feeling that they are under-supported, under-funded and generally under-appreciated. Thoughtful Christmas gifts are a great way for parents and students to let teachers know how much their work means. Small gifts are best, both so that they don't appear as inappropriate and because some schools may have policies about teachers accepting expensive gifts from students. Home baked goods are a traditional gift idea, but teaching supplies, books, tea break supplies, personalised stationery and gift vouchers are also wonderful Christmas gifts for teachers.
Home Baked Goods
Home baked goods like biscuits, cakes and muffins are time tested Christmas gifts for teachers, but in recent years they have fallen slightly out of favour. Diets, food allergies and the amount of time and effort it takes to produce them all mean that home baked goods can be great in theory but not so great in practice. To figure out if a particular teacher would welcome home baked goods, find out if (s)he allows them in class, brings them in for students or otherwise has made his or her thoughts on baked goods known. If you can't figure it out, just ask. And don't forget to give baked goods in a pretty tin or basket to make the gift extra special.
Teaching Supplies
There isn't a teacher in the world who would turn down free teaching supplies. Pens, pencils, notepads, stickers, highlighters, chalk or markers, coloured paper, paper clips and other small items can be bundled into a gift basket to make a useful Christmas gift for a teacher. Or, parents might get together and take up a collection to purchase bigger items such as posters, equipment for displays or bookshelves for the classroom. Before deciding on larger supplies, check with the school or educational authority to make sure such items are appropriate. Decorative items for the classroom, like baskets for books, potted plants or supplies for notice boards also make great Christmas gifts for teachers.
Books
Many teachers enjoy reading so books can be particularly appropriate Christmas gifts. New releases from a favourite author, bestselling novels, inspirational non fiction (about teaching or other educational themes, most likely) or even teaching-related resources might all be appreciated by teachers. Some teachers might also like a selection of reading materials appropriate for a classroom library, so have a quick look around to see what is already available to the class if you're thinking of purchasing these types of books.
Tea Break Supplies
It would be a rare teacher who turns up his or her nose at tea break supplies. Chocolates, gourmet biscuits, favourite brands of tea, coffee and/or hot chocolate and even a new mug can all be artfully arranged to make a nice gift. If you want to put a more personal touch to it, consider having a mug printed with the teachers name, but stay away from generic messages like "World's Best Teacher". So many of these items are sold that it's more likely a teacher will already have something similar, as will every other teacher in the break room.
Personalised Stationery
Many teachers communicate with parents and other staff members via notes, so personalised stationery will always be appreciated as Christmas gifts. Avoid printing the date or school year as this limits the lifespan of the gift. Instead, print simply the teacher's name or the name and a small image that is pertinent to teaching or the teacher's outside interests. Whatever you decide, make sure the stationery is appropriate for communicating with a general audience and that there is plenty of room left on the page for the teacher's notes.
Gift Vouchers
Some of the best Christmas gifts for busy teachers are gift vouchers which let them decide when they need some pampering. Vouchers for cinema tickets, inexpensive spa treatments, a meal at a favourite restaurant or even a few beverages at a coffee shop chain are great gift ideas. Just make sure that the expiry date is clearly printed on the voucher. If it is not, add it in yourself or write it in the card so that the voucher doesn't expire without the teacher knowing it.
Christmas gifts for teachers are a wonderful way to let them know you appreciate their hard work. Home baked goods, teaching supplies, books, tea break supplies, personalised stationery and gift vouchers are all Christmas gifts any teacher would be happy to receive.
You might also like...