Ideas For Traditional Christmas Presents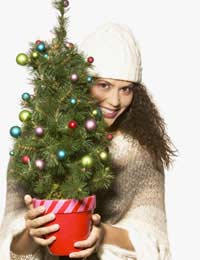 Christmas is the ultimate gift-giving time of year. If you want to keep your celebrations traditional you need to make sure that you give traditional gifts. Here is a run down of some classic ideas.
Stocking Fillers
Christmas just wouldn't be Christmas without a stocking! It doesn't have to be stuffed full of expensive gifts small traditional tokens are enough to get that festive spirit going!
A shiny schilling and an orange are often touted as the classic stocking fillers. Throw in a pink and white candy cane and you have the quintessential Christmas gift.
Update the tradition slightly but keep the same traditional theme running through it. Exchange the schilling for some chocolate coins and instead of an orange have orange scented soap or an orange scented candle lining the bottom of the stocking.
Hamper Time
Christmas is a time that brings everyone together and they are often brought together to enjoy a feast. It's a time to indulge in food and drink and a great gift, which symbolizes this, is a hamper.
Hampers are offered by all the top department stores during December and come stuffed with delicacies.
Save some pounds and put together your own hamper. Buy the cane basket and line it with a rich coloured silk material. Then all you have to do is add the goodies! Christmas pudding, a box of gourmet chocolates, a selection of savoury biscuits, a strong cheese, smoked salmon and maybe a bottle of premium brandy. Feel free to add the receiver's favourite items as well as some of the more traditional ones and don't be afraid to spend as much or as little as you can. If your budget is small you can always bulk it out with some cheaper items like sweets or small Christmas ornaments.
Deck the Halls
What could be more traditional than a Christmas tree? Decked in all its decorations and covered in tinsel and baubles, a Christmas tree marks the 25th December in a way that no other symbol can.
Chances are that the receivers of your gift will have most of the decorating covered but in the run up to the big day you could give them a traditional decoration – a wreath for the door. Get the real deal – one made of holly – from your local garden shop. It won't be too expensive and paired with some mulled wine, makes the perfect Christmas gift.
Traditional by Default
There are some gifts that have become traditional over time. Its not that they are particularly festive but at this time of year certain people just seem to receive certain gifts.
Dad and socks naturally go together at gift-giving time! If someone needs a quick gift idea then socks seem to be it. Play on this and go for some particularly festive pairs that will get him smiling! Think musical pairs with Santa motifs embroidered on them! Hand over the sock present first and after he has put them on, hand over the proper footwear present, like a pair of trainers or shoes that you know he has been after for a while!
Mum and auntie frequently get laden with beauty products at Christmas time. It's unlikely that they moan about this. In fact, they probably like receiving such gifts and expect to get them at this time of year! So don't disappoint them – buy some particularly lovely products and make sure they are their favourite brands and their favourite scents.
Christmas is a special time of year. It's a time full of traditions and tried-and-tested routines. Embrace the traditions and the festive spirit. Give your loved ones some traditional gifts and update them with a modern twist.
You might also like...