Christmas Gifts for Teenagers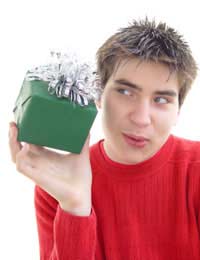 One thing that almost all teens can agree on is that free stuff is good so Christmas gifts are usually welcomed enthusiastically (even if the enthusiasm is only on the inside). Of course each teen will have his or her own interests which you should keep in mind, but there are a few items that most teens would be happy to receive. DVDs, books, music, electronics, clothing, art supplies, tickets and gift cards all make great Christmas gifts for teenagers.
DVDs
From recent blockbuster films to classic movies, to world cinema releases, to the latest series of a favourite television programme there is a DVD out there to suit just about anyone. Box sets also make great gifts because they allow you to give a teen a complete series of something all at once. If you're feeling extra generous you might even throw in a DVD player with a DVD or two, though you'll probably want to check with a teen's parent just to make sure that such a gift would be acceptable. If you're considering giving a DVD, be aware of classification guidelines particularly if a film is classified as 15, 18 or R18.
Books
Many teens love to get lost in a good book, so encourage a love of reading by supplying a few different options. Christmas sales mean that you can often find multi-book deals, and don't hesitate to move away from "young adult" options for teens. If you know that they like a particular author or genre you can easily ask sales staff to help you locate new releases or bestsellers. You might also choose to branch out, such as finding a non fiction book on a topic that a teenager enjoys reading about in novels, or combining books and DVDs, for example purchasing the book from which a film was adapted. A blank book or journal to encourage a teenager to write his or her own stories might also work as a Christmas gift.
Music
The vast majority of teenagers love music, but the method by which they listen to it can differ greatly. CDs and electronic downloads are probably the two most popular methods for teens to listen to music, though aspiring musicians may prefer to receive sheet music or even instruments as Christmas gifts so that they can play their own. If you're unsure about the type of music a teen prefers or the method by which (s)he listens to it then a gift card to a music store or a download site like iTunes may be a good idea. A stereo or personal music player like an mp3 player or iPod would also be a great Christmas gift for a teenager - although bear in mind that many will already have one - so check first!
Electronics
In addition to music players there are a variety of other electronics that might make good Christmas gifts for teenagers too. Depending on a teen's interests (s)he might enjoy video games, a personal games console, a television for the bedroom, computer hardware or software, a mobile Internet connection, a mobile phone, a digital camera or small kitchen appliances or cookery gadgets. However, electronics can be expensive and some parents may not feel that electronics of a particular type or price tag are appropriate Christmas gifts for teenagers, so be sure to ask if your idea would be okay prior to purchasing electronics for teens.
Clothing and Hair or Make Up
In general, teens love clothes. But they love the clothes that are their particular style, so be very sure of what a teenager wears before purchasing clothing as a Christmas gift for him or her. Try to stay away from clothes that they
need
, such as school uniform items, and instead give clothes that a teen really wants. If you don't know a teen's size, style or the type of clothing that they want at the moment then you might consider a gift card to a particular shop instead.
You'll also find that most teenage girls are into hair and make up. Try and find out what hair styling tools they use like straighteners, dryers or curling tongs. You might find something new on the market that complements these - or maybe buy a stylish heat proof holder for them, so they can be transported to sleepovers etc. Unless you know their preferred brand of make up, don't buy it! Giving a voucher for a department store or pharmacy would be a much better bet, although a decent brand lip gloss will rarely be sniffed at.
Art Supplies
Many artistic teens would love to receive art supplies as Christmas gifts. Sketch books or pads, drawing pencils, pastels, paints, easels, craft supplies and even frames for completed masterpieces are all good options for creative teenagers. Items for organizing art supplies, such as caddies, baskets and desks might also be good, if slightly more mundane, Christmas gifts for teens.
Tickets
Tickets to the cinema, a sporting event, the theatre or a music event could be a good Christmas gift idea depending on a teen's interest. Check with a parent first to make sure that the event for which you want to purchase tickets is acceptable for the teen to attend, and remember that you might need to purchase two tickets so that the teen can go with a friend or chaperone. If one of the tickets must be used by someone in particular (a friend, sibling or parent) then make this clear when you give this Christmas gift so that there is no confusion later.
Make Your Own
If you're strapped for cash or want to give something unique, why not find a box, jute bag, or basket and fill with small items that any teenager might appreciate. Wrap each item in tissue paper and tie with a bow. Here are some ideas for what your collection could include:
Nail varnish (in latest colours)
Lip gloss
Chocolates
Personalised items (such as a mug with their photo or initials)
Small compilation of photos of them (and their friends, family or pets)
Slouch socks
Pyjamas
Joke shop items
Key ring LED torch
Five pound coins wrapped up
iTunes cards
A phone top up card
Phone charm
Earrings
Miniature perfumes or aftershaves (if you have an idea of what they like)
Fluffy scarves or gloves
Football team items (if you know who they support)
Gift Cards or Cash
If all else fails and you just can't find a Christmas gift in the shops for a teenager then you could always give a teen a gift card or cash as a Christmas gift. These options give the teen complete control over their own gift as well as the flexibility of spending the card or cash whenever they want. Most teens couldn't ask for more!
You might also like...