Keepsakes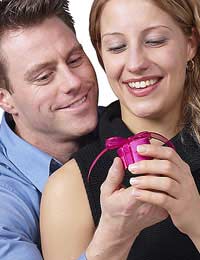 If you want to give something special a gift to be remembered and cherished, make it a keepsake. These are gifts that are often of little monetary value but whose sentimental price measures off the scale!
Homemade and Heartfelt
If you really want to overwhelm and give a gift to be remembered make it one that you created yourself and laden it with a heavy dose of sentimentality.
The gift that ticks all of the boxes in this category is a scrapbook of memories. This is the perfect gift to give your other half, to remind them of why you are in love with them and to let them know how much you care. It is also the perfect present for a new mum or dad as a keepsake of their child's first few years of life.
The key to preparing a present like this is plenty of time and plenty of planning. Photos have to be collected, the layout of the scrapbook has to be planned and words and captions have to be written. This is no last minute gift but if you give it the time it deserves, you will have created a very special gift that will be cherished for years to come.
Don't be afraid of bringing this gift up to date. There are no rules when it comes to keepsakes and there is nothing stopping you from making your gift interactive and online! Buy a domain name, and set about creating a website. Build a series of webpages and pack them full of unique memories, videos and stories. This is a particularly good gift idea if the receiver is based abroad – send them the domain and let them log on to discover your hard work!
Other homemade gifts that fit into the keepsake category include videos, edited with lots of special memories, handwritten original poems and stories and self-drawn paintings.
Shop Bought and Well Thought
Keepsakes are not only made, they can be bought. If time is running out then you need to come up with a strong gift idea that will not give you away. Here are some ideas that will keep you in the good books.
Jewellery is a good option. This is the type of gift that endures – no one throws away an item of jewellery or tires of it, it always remains special. Lockets, with well placed photos or mementoes, hidden inside, are perfect keepsakes. It enables the wearer to always carry something special with them, wherever they go. Head to a shop and buy a version in their favourite precious metal, placing a small photo of someone close to them inside.
If you don't think a locket suits their taste it is permissible to buy any item of jewellery you like. If you do this make sure that you add something extra. An engraving is an easy way to transform an ordinary gift into a keepsake. Watches and bracelets with kind and well-thought words etched into the back, make unique gifts that can be cherished forever.
Books, particularly first edition versions of the receivers' favourite author, are another great gift idea. They might be rare to find but the internet is packed full of specialist bookshops that will help guide you in the right direction if you are looking for a hard-to-find title.
Other shop bought gift ideas that might work for your loved one include personalised stationery, bespoke perfumes or hand-made clothing, made-to-measure shoes from a top brand or even a case of wine, made from a specially purchased vine.
Keepsakes are special gifts that require a little bit of thought. They aren't your everyday presents – they have to mean something and they have to be permanent gifts that in years to come will still be as special as they are today. Give it some thought and give yourself enough time to make it work.
You might also like...