Present a Mini Photo Album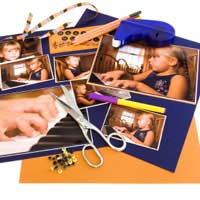 Photographic gifts can be one of the easiest ways to solve a 'what to give' present dilemma, but only if chosen with care and consideration of the recipients likes and dislikes!
What's the Occasion?
A mini photo album could solve the problem for all manner of occasions, from christenings to anniversaries, and make a fabulously personal gift for any age range. And remember - the gift of a photo is so much more than just a decorative item, and as such will mean so much to the person receiving it.
Where to Start?
Evoking memories and recording events is one of the nicest ways to commemorate an occasion, or revisit a special time from the past.
Begin by thinking of a time or event that holds a special place in the heart of the person you are compiling the album for; an older relative, for example, might enjoy an album depicting their childhood, whereas a younger person, celebrating their 18th or 21st perhaps, might prefer more light-hearted, candid shots from nights out with their friends, or amusingly captioned pix from their younger years.
Professionally Presented or Home Produced?
There are many companies, both on the high street and on the internet, who print and bind photographic albums and other photographic gifts. However, there is no reason why you could not print and bind your own album at home.
DIY!
Select clear, well defined, sharp images that will print well. Buy the best photographic paper you can afford, and print your pictures out on your printer's highest quality setting.
Size is Everything
Consider the size of your album; a mini album is a more portable, usable gift. It doesn't have to be stored in a cupboard or on a shelf like an old fashioned foolscap sized album, and can be carried around easily in a handbag or pocket to share with other people. With that in mind, keep your pictures a manageable size.
Colour Me Happy
You might want to choose a colour scheme to match the theme of the pictures: pink for a baby girl's christening for example, or blue for an album of pictures for the parents of a baby boy. Pictures mounted on black or cream high quality card will always look sophisticated and well presented - decals, stickers and card toppers can always be added to further enhance individual pages - e.g. horseshoes or love birds would work well on the corners of the pages of wedding photos.
For a simple but aesthetically effective album, mount your images on good card stock, hole punch the side and tie together with a pretty ribbon. Or laminate your individual pictures and bind in a comb-binder for an industrial style contemporary look. For a small fee, many printing shops will bind small items, which would add a professional touch to your finished product.
Capturing Memories
However you choose to present your album, and whatever theme you decide to run with, the recipient is sure to be delighted with the results - who wouldn't be chuffed with the gift of a brief moment in time, captured and beautifully presented for all eternity?
You might also like...