Novelty Gifts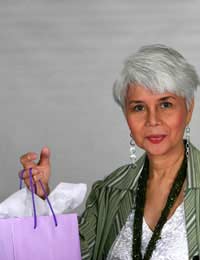 Some people are just impossible to buy for; we all know the man or woman who has absolutely everything, and what a nightmare it can be to treat them come birthday or Christmas time. So what can you do to ensure you come up trumps with a gift that pleases, doesn't break the bank, and, most importantly, is right up their street?
Novelty gifts can get a bad press - often quite rightly! But there is a world of difference between a well chosen novelty present that's going to knock someone socks off, and the realms of tacky, souvenir shop style tat - think be-hatted raffia donkeys from the Balearics! However, if carefully picked, a novelty item can be very well received - and that's the key phrase - pick carefully!
Personalisation
Thankfully, personalised gifts have moved on a long way from the monogrammed handkerchiefs and guest-towels of yesteryear! These days, practically anything can be personalised, from car number plates to passport holders, cushion covers to shopping bags!
Take in to account your recipients' lifestyle, hobbies and interests though - there's no point in splashing out on a set of ten monogrammed golf balls if the person in question would rather saw off their own leg than step foot on a golf course!
Many high street jewellers and gift shops offer engraving services, often even if you haven't bought the item from them originally. Tankards, silverware, watches, lockets and pendants can all be personalised with a special message or sentiment and make a original and meaningful gift.
Photographic Gifts
Novelty gifts such as funny mugs, coasters, tee shirts etc. can be even more appealing if they bear a picture of the recipient on them. Practically all the high street photographic stores and printing shops now offer these services. For Christmas and New Year gifts, why not consider presenting your friends with personalised calendars with your own quirky images for each month - guaranteed to please for the next twelve months!
For mums and grannies, printed tote bags or shoppers emblazoned with a picture of their children or grandchildren makes for a wonderfully personal novelty pressie. If you find print shop costs prohibitive, why not make your own gifts on your computer - look out for transfer sheets to print your images on that can then be ironed on to fabrics such as tee shirts, bags and cushion covers.
Vouchers
A voucher for a high street store hardly qualifies for the most exciting of gifts, and has very little novelty value, but your own book of 'gift' vouchers, especially printed and prepared for your friend or relative, will be sure to please! Think along the lines of babysitting vouchers, massage vouchers, IOUs for help with housework, decorating and so on - anything you could offer to do for the recipient that they would consider a treat or a help!
Novelty Hampers
Hampers aren't just for Christmas - home assembled gift hampers are a great way to treat someone, be it for Christmas or birthdays, and novelty ones can be all the more fun! Choose your contents according to the occasion: a saucy 'girls night out' hamper for a hen party maybe, or a jokey 'geriatric' hamper (false teeth cleaner, a folding walking stick etc.) for a retirement party of 40 or fiftieth birthday! With a bit of imagination, the options for good fun novelty gifts are endless!
You might also like...